Book Three, Chapter Two 03.15.12 - Zack - permalink
The third sample chapter from Liminal States advances the story to the 21st century. If you do not want any hints or spoilers about the book you should stop reading this now. It is 2006 and Pollen "Polly" Foster, is a shamed member of the Pit Security Rapid Response unit, accused of incompetence that killed her entire team. As Polly tries to piece her life back together and recover her promising career she must confront that the world, and her own humanity, are slipping away. A sample from book one and book two were previously posted.
Please download, enjoy and share:
2006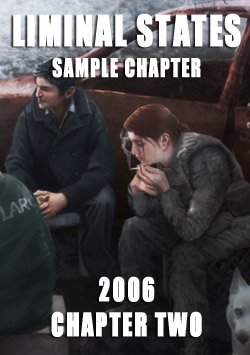 Download PDF
Download MOBI (note: autoconverted from PDF, not final ebook)
This is the third of three sample chapters available for Liminal States. Thank you for reading and be sure to like us on Facebook and join our mailing list for news about the upcoming, post-release giveaways of special Liminal States items.