Book One, Chapter Six of Liminal States 01.26.12 - Zack - permalink
Chapter six takes place roughly a third of the way through the first book. Following a horribly botched train robbery, a badly-wounded Gideon Long escapes into the desert of the New Mexico Territory. In the nearby town of Spark, Annie Groves, wife of Sheriff Warren Groves, fights to give birth. As her complications grow, and her daughter's life hangs in the balance, she experiences terrifying visions.
Please download and share:
1874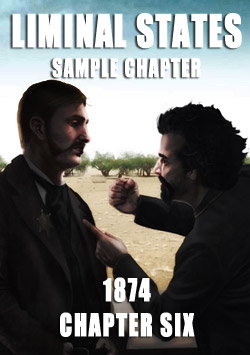 Download PDF
Download MOBI (note: autoconverted from PDF, not final ebook)
Before the release of Liminal States I will be offering three chapter excerpts for download, one from each of the three books. I hope you enjoy these glimpses into the story.