I'm giving away more stuff! (IT'S GONE) 04.09.12 - Zack - permalink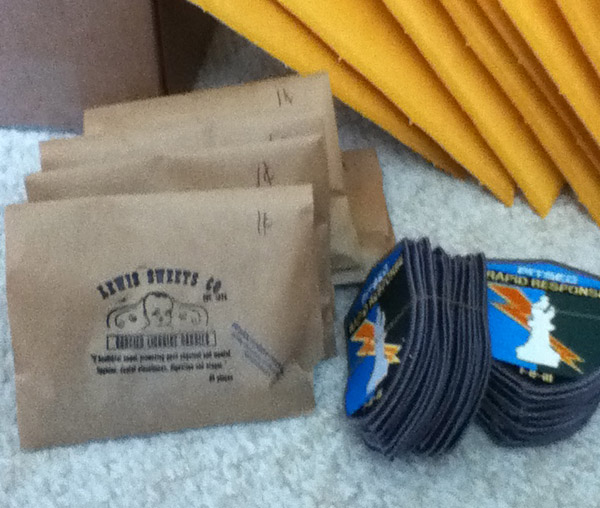 I hope you are enjoying your copy of Liminal States and you are looking forward to the short film coming in a week. If you missed out on the first opportunity to receive a Rapid Response patch with your hard copy of Liminal States, I have good news. I have 50 brand new patches, plus a bunch of bags of Lewis Licorice Dandies and signature stickers. I'll give away all three in each envelope for as long as supplies last. If these sound like things you would like to purchase, unfortunately you can only get them for FREE.
The rules are the exact same as in the first batch:
If you purchase a hard copy of Liminal States, all you have to do to get a FREE patch plus a FREE personalized signature sticker, is take a picture of yourself holding your copy of the book along with your name on a piece of paper. You donít even have to show your face, just your hand holding the book. Then send the picture along with your mailing address to: bonus@liminalstates.com Wait about two weeks and, hooray, free patch and personalized signature. Kindle owners and ARC recipients are not included in this offer, sorry folks. Thereís no easy way to handle that.

If you purchased multiple copies of LS you need to include them all in the picture at once and your limit is three patches/signature stickers. If you recently purchased another copy and you are requesting a second patch/autograph you must include both new and original book in the photo.
I have about ten requests for patches sitting in my inbox that have not yet been answered. These will be the first to receive replies. If you have been holding off on buying a copy or thinking about getting one for a friend, now would be a great time to do so. This is the last time I will be giving away these patches like this.
If you know of a website or magazine that should review Liminal States, a place that reviews or features books like LS, tell them so using their comment system or email. But, most of all, enjoy the book!