Getting Quotes 01.02.12 - Zack - permalink
Writing a novel is just a small part of the process of releasing a finished book. You have to find ways to draw attention to your novel. One method preferred by publishers is to feature quotes by various respected authors on your book's cover and mentioned in your promotional material. For a first-time novelist at an independent publisher, getting these quotes can be a daunting task.
I am both fortunate and extremely pleased to be receiving a quote from Kevin J. Anderson, the #1 bestselling co-author of SISTERHOOD OF DUNE and various other Dune novels. He liked the book a lot, and I'm sure you will be seeing his quote in LIMINAL STATES material in the near future.
I wanted to take a minute to thank him personally. He did not receive a galley, he received a bound manuscript, which was huge and unwieldy and arrived not long before Christmas. KJA is a hero for giving me a quote under those conditions.
If you have any interest in the Dune books, please, check out SISTERHOOD OF DUNE's cool trailer and head out to see him on his book tour. It starts tomorrow in Lone Tree, Colorado. Possibly under the tree.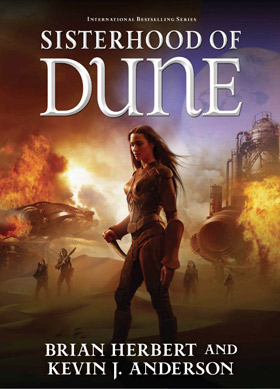 If you see Kevin at his book signing because of this post, please be sure to thank him in person on my behalf. He's a busy author with a lot of projects going on. He could not have been nicer and more helpful to somebody just starting out in fiction.
Thanks, Kevin!